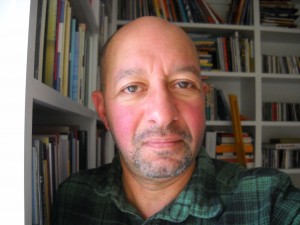 The 53nd Annual Wallace Stevens Poetry Program with Carl Phillips at the Greater Hartford Academy of the Arts and the University of Connecticut
The University of Connecticut's English Department and The Hartford are pleased to announce that Carl Phillips, the 53rd Annual Wallace Stevens Poet, will give two readings from his work, on March 22 and 23, 2016.
Mr. Phillips will read from his poems:
* At 7 p.m. on Tuesday, March 22 at the Konover Auditorium of the Dodd Center, 405 Babbidge Road on the UConn Storrs campus.  Student winners of the Wallace Stevens Poetry Award will also be honored at the event.  The reading will preceded by a reception starting at 6 p.m. in the lounge adjacent to the Konover Auditorium.  
* And at 1:30 p.m. on Wednesday, March 23 at the CREC Greater Hartford Academy of the Arts at 15 Vernon Street in Hartford.
The readings and the reception are free and open to the public.
Described as "one of America's most original, influential, and productive of lyric poets," Carl Phillips is the author of over a dozen books of poetry, criticism, and translation. His most recent books of poetry include Reconnaissance (2015), Double Shadow (2011, winner of The Los Angeles Times Book Prize for Poetry and finalist for the National Book Award), and Speak Low (2009, finalist for the National Book Award). His work has been anthologized in The Vintage Book of Contemporary American Poetry (2003), The Vintage Book of African American Poetry (2000), and Gay and Lesbian Poetry in Our Time (1988). According to the Judges' Citation for the 1998 National Book Awards, "Carl Phillips's passionate and lyrical poems read like prayers, with a prayer's hesitations, its desire to be utterly accurate, its occasional flowing outbursts."
Phillips's many honors include the Kingsley Tufts Poetry Award, a Lambda Literary Award, an Award in Literature from the American Academy of Arts and Letters, the Academy of American Poets Prize, induction into the American Academy of Arts and Sciences, and fellowships from the Guggenheim Foundation and the Library of Congress. Phillips served as a Chancellor of the Academy of American Poets from 2006 to 2012. He is Professor of English and of African and African American Studies at Washington University in St. Louis, where he also teaches in the Creative Writing Program.
The Wallace Stevens Poetry Program began in 1964 with funding from The Hartford to honor Modernist master poet Wallace Stevens, a former Vice President of The Hartford. In the last half century, the Program has brought a roster of the most important national and international poets to Connecticut. This year's Program is sponsored by The Hartford, as well as the University of Connecticut's English Department, Humanities Institute, and Creative Writing Program, all housed in the College of Liberal Arts and Sciences. Additional support is provided by the UConn Rainbow Center.
---