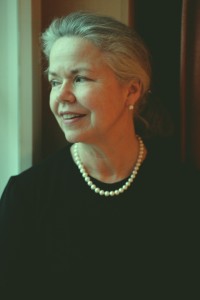 The University of Connecticut's English Department and The Hartford are pleased to announce that Susan Stewart, the 52nd Annual Wallace Stevens Poet, will give readings from her work on April 1 and 2, 2015:
Wednesday April 1, Reception 6 p.m., Dodd Center Lounge; Poetry reading 7 p.m., Konover Auditorium of the Dodd Center, 405 Babbidge Road, Storrs, CT 06269;
Thursday April 2, 10 a.m., Poetry reading at Hartford Classical Magnet School, 85 Woodland Street, Hartford, CT 06103.
Both events are free and open to the public.
Poet, critic, and translator Susan Stewart is the Avalon Foundation University Professor in the Humanities and Director of the Society of Fellows in the Liberal Arts at Princeton University. Stewart's most recent books of poems (all published by the University of Chicago Press) are Red Rover (2008), Columbarium, which won a 2003 National Book Critics Circle Award, and The Forest (1995). Her translations and co-translations include Love Lessons: Selected Poems of Alda Merini (Princeton, 2009), Euripides's Andromache (Oxford, 2001), and the poetry and prose of the Scuola Romana painter Scipione. In 2013 she published two co-translations with Chicago: Laudomia Bonanni's novel The Reprisal and Milo De Angelis's most recent books of poetry, Theme of Farewell and After-Poems. Stewart's most recent books of criticism (also with the University of Chicago Press) are The Poet's Freedom: A Notebook on Making (2011); Poetry and the Fate of the Senses (2002), which won the Christian Gauss Award for Literary Criticism in 2003 from the Phi Beta Kappa Society and the Truman Capote Award for Literary Criticism in 2004; and The Open Studio: Essays on Art and Aesthetics (2005), a collection of her writings on contemporary art.
A 1997 MacArthur Fellow, Stewart recently served as a Chancellor of the Academy of American Poets. She was elected to the American Academy of Arts and Sciences in 2005, and four years later she received an Academy Award in Literature from the American Academy of Arts and Letters. She has collaborated with contemporary artists Ann Hamilton and Sandro Chia, among others. In October 2009, Stewart's song cycle, Songs for Adam, commissioned by the Chicago Symphony with music by composer James Primosch, was premiered by the CSO with baritone Brian Mulligan and Sir Andrew Davis conducting.
This year's Program is sponsored by The Hartford. Additional sponsorship is provided by the University of Connecticut's Humanities Institute, Creative Writing Program, Aetna Chair of Writing, and English Department, all in the College of Liberal Arts and Sciences.